Conference Venue
QCrypt 2015 will take place at Hitotsubashi Hall, Tokyo, JAPAN: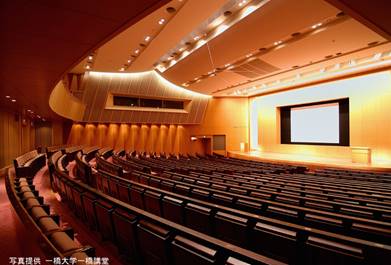 Photo provided by Hitotsubashi Hall of Hitotsubashi Univ.
--- Note ---

There is another "Hitotsubashi Hall" run by Japan Education Center near our conference venue. The "Hitotsubasdhi Hall" we are having our conference in is located in National Center of Science Building, between Josui-Kaikan and Kyouritsu Hall. Please make sure to visit the one in National Center of Science (Gakujyutsu-Sogo-Center) Building.
Located in the central Tokyo, the hall has a very good access from three metro stations.
It holds maximum 526 people in the fully equipped main Hall, and adjoining are small to middle sized meeting rooms that are open to participants.
From there, you can reach to the National Museum of Modern Art, Tokyo and Science and Technology Museum in 10 minutes on foot, and even the Imperial Palace is within a walking distance.
Address
National Center of Science, 2-1-2 Hitotsubashi, Chiyoda-ku, Tokyo
Access
By subway (Tokyo Metro、Toei Subway)

3 minutes walk from Jinbocho station (I10) Toei Subway Mita line (Gate A9)
6 minutes walk from Jinbocho station (S1) Toei Subway Shinjyuku line / (Z07) Tokyo Metro Hanzomon liine (Gate A6)
3 minutes walk from Takebashi station (T08) Tokyo Metro Tozai line (Gate 1b/3a)
11 minutes walk from Kudanshita station (T07) Tokyo Metro Tozai line (Gate 6)

By surface line (JR East)

15 minutes walk from Suidobashi station, JR Sobu line (East Gate)
Map
View Hitotsubashi Hall, the venue of QCrypt 2015/Tokyo in a larger map